Glass never becomes old fashioned; it always goes with the style and can provide an amazing and romantic appearance in your bathroom. Glass not only make your bathroom look unique but also make it spacious. If you are going to remodel your bathroom then glass is a better idea. You can also use colored glass in bathroom. It can be available in different-different forms such as Bent, Fuse, Roasted and Sintered. More glass in your bathrooms will look more appealing and mysterious.You can use washbasins, bathtubs, peculiar worktops and shower doors etc. made of glass. Use of a glass in your bathroom will definitely make your bathroom look modern and turns into a stylish zone by using such innovative ideas as follows:
Glass Bathroom Vanities- A Sophisticated Look
Glass Tiles- A Wow Trend in Bathrooms
Glass Block Windows- Privacy plus Security
Glass Countertops- Non-Traditional and Beautiful Choice
Open Glass Shelves- Easy Approach of Bathroom Accessories
Glass Walls and Partitions- Creating Aesthetic & Romantic Atmosphere
Glass Shower Enclosure- Modern Bathroom Beauty.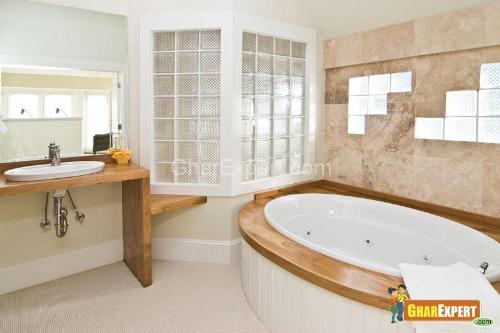 Glass Walls and Partitions- Creating Aesthetic & Romantic Atmosphere Â
Glass walls or door and partitions are very appropriate for the bathroom attached with the bedroom or the toilet attached with the bathroom, you can easily separate them by using the glass partitions or walls. Glass can enhance the look of your bathroom as well as bedroom. You can give more interesting and appealing approach to bathroom by using stained glass rather than using a plane glass as stained glass comes with various designs and looks so decorative.
Glass Shower Enclosure- Modern Bathroom Beauty Shower enclosure can make your bathroom pleasing as well as functional. Although you can use shower curtain to separate the shower with bathroom but it can cause a chance to grow molds and bacteria's and it totally unhygienic to you. Using the glass paneled shower door doesn't create any harmful bacteria's. Glass paneled doors always provide healthy and hygiene and bacteria free environment in your bathroom. Stylish glass shower can improve the look and feel of your bathroom luxurious. A wide range of styles and designs available nowadays such as clean, frosted, patterned and stained. Shower enclosure can be opting for small space bathrooms with an idea to place them in corner. Corner style shower enclosures offer a high degree of functionality and provide a fantasy of more space. Glass shower enclosure comes with an advantage of easy to clean and maintain.
Find more about "Bathroom Design with Glass" click here>>
From:-India's # 1 website for Interior Decoration, Construction and Vastu Tips:
www.GharExpert.com